Each of the past three years, we've seen a center go in round one of the NFL Draft.
On top of being first round selections, all three players have made a tremendous impact in the beginning of their careers. It's hard for the naked eye to judge offensive line play on television, but Pro Football Focus puts lineman through critical analysis.
After becoming he first center selected in the 2009 NFL Draft, Mack has started all 48 games of his career, and he's played at least 975 snaps every year. As a rookie, Mack was simply terrific. He graded out with a +19.5 overall rating, with a +0.6 pass block grade and an astounding +15.1 grade in the running game.
Mack suffered no "Sophomore slump" in his second season, as he graded out well above league average in both the run game and pass game.
Although he graded out as a respectable +7.1 overall, last season was his worst as a professional according to PFF. For the first time in his career, he turned in a negative grade in either the pass blocking or run blocking department. His negative grade was just barely below the average mark of 0, as PFT gave Mack a -0.2 grade for run blocking.
Fellow 2009 first round center, Eric Wood, graded out below average in each of his first two seasons before having the best season of his career in 2011. Last year, Wood (+8.8) graded out as the 7th best overall center in the league although he only played nine games and 553 snaps.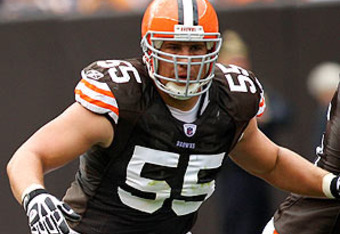 Alex Mack hasn't missed a game in three years for the Browns.
Durability has been an issue for Wood. He's played 33 of a possible 48 games throughout his three year career.
The Pouncey brothers, Maurkice a two year veteran and Mike a rookie in 2011, have shown a lot of promise as professionals.
Mike didn't miss a game as a rookie and played 1,025 snaps, but he wasfar better as a run blocker (+3.6) than a pass blocker (-5.4) in 2011. Reggie Bushhad failed to live up to expectations since being the second pick in 2006, but Pouncey played a role in the former Heisman Trophy winner's breakout 2011 season. Averaging five yards per attempt, Bush ran for over 1,000 yards for the first time in his six-year career.
After not missing a game until Super Bowl XLV, Maurkice Pouncey missed two games in 2011. He graded out as the 20th best player at the position with a slightly below average overall grade of -1.2. This was a statistical improvement over his rookie season, in which he received a -4.2 overall grade. Pouncey took a major step forward as a pass blocker, going from -7.9 as a rookie to an even 0 in his second season.
With the possible exception of Buffalo's Eric Wood, recent history suggests taking a center in the first round is among the safest selections in the Draft. Maurkice and Mike Pouncey are incredible athletes for the position, and Alex Mack has been a reliable mainstay in the middle of Cleveland's offensive line.
The 2011 NFL Draft boasts one center with the potential of going on in round one: Wisconsin's Peter Konz.
Konz was the man in the middle of a physically dominant offensive line for the Wisconsin Badgers. The line for Badgers is consistently have elite - and gigantic.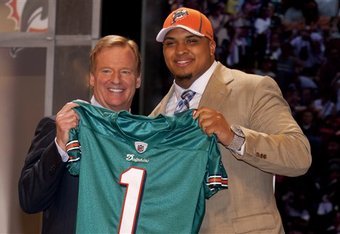 Mike Pouncey helped pave the way for Reggie Bush's best season.
At 6'5" 315 pounds, Konz has great size for a player at the position. Despite only putting up a modest 18 reps on the 225 bench press at the 2012 NFL Scouting Combine, Konz constantly was able to push around defensive linemen in the Big Ten. Unlike many lineman at his size, Konz has shown true athleticism by often pulling from the center position and paving the way for Montee Ball.
Ball was a Heisman Trophy finalist last season for the Badgers. He amassed an incredible 1,923 yards and 33 touchdowns on the ground, all while averaging 6.3 yards per carry. A statistical season like Montee Ball had last year simply can't happen without the offensive line controlling the defensive line.
The depth of Wisconsin's offensive line is highlighted by the selection of Bill Nagy with the 252nd pick in last year's Draft by the Dallas Cowboys. In his final season in Madison, Nagy wasn't a regular starter for the Badgers. He was used primarily as a third tight end in running formations. However, despite not starting late in his college career, Nagy started four games for the Dallas Cowboys as a rookie prior to suffering a season-ending ankle injury.
Peter Konz will enter the NFL by way of a much different path.
Widely considered to be the top center in the 2012 Draft class, Konz could be selected as high as the 20th overall pick to Tennessee depending on whether or not the Titansaddress the position in free agency. Cincinnati, Detroit, Green Bay, and Baltimorealso may be in the market for a center with their first pick.
The Packers have a glaring need at the position, having lost starter Scott Wells to the St. Louis Rams as an unrestricted free agent. Green Bay currently has Evan Dietrich-Smith as its top center, so the Packers are very likely to address the position through the draft or free agency, and perhaps they'll add a player through both.
At a time where teams are hesitant to throw large sums of money at unproven rookies, several players with questions surrounding their character or effort will be moved down draft boards. There are no questions about Konz as a person, nor are there questions about his motor.
With several teams picking towards the bottom of the first round with a clear need at the position, Peter Konz looks to be the next center selected in round one to have instant success in the NFL.